Host Hotel:

Carol Lynn will continue as MW*C Hotel Liaison, and will coordinate all member reservations with Ramada. Members may make reservations with other hotels directly.
All reservation requests will be done online (there is no paper form). Reservation requests are sent directly to the hotel as well as to Carol so we may confirm memberships. Once both membership and reservations are confirmed, Carol will send confirmations to the members submitting the requests. If you are unable to use the online form, contact Carol and she will assist you. (hotelliaison@mediawestcon.org)
At current membership levels, everyone should be able to get a room in Ramada that wishes to.
Unfortunately, there are still internet trolls trying to make people think the way we do hotel reservations is somehow sinister or unusual when, in fact, hotels taking group reservations is a standard industry practice. Yet, trolls have been misrepresenting the hotel procedure and defaming us for over 20 years, and continue to do so. Click here for the True History of the MW*C Early Reservation Request Procedure and help stop internet trolls from trying to rewrite history.
More on Ramada and Surrounding Hotels
The location of the Ramada should be familiar to long-time MW*C members, as it was the original location for T'Con (1978), 2'Con (1979), and MediaWest*Con 1 (1981) through 11 (1991), first as a Hilton Inn and later as a Holiday Inn. It has gone through several owners and franchises since then, and is now a Ramada. The Ramada is the second largest hotel in Lansing.
The Ramada has 244 sleeping rooms and 6 suites. MW*C will have rooms blocked, including some for the week leading up to the con, for those of you who like to arrive early. (Ramada has ongoing agreements with airlines for crew stopovers, etc. and must hold some rooms due to various commitments, but will later add to the MW*C block as available) and we will use 1 of the suites for Con Suite.
Ramada will host a Welcome Reception Thursday, in the lobby for those who arrive early, and daily breakfast buffets 6am-10am for those staying in Ramada (in the pool area during the con).
The Ramada has a full-sized indoor pool and Atrium Recreation Center with sauna, whirlpool, and fitness center, free parking, free WiFi, a guest computer with internet access, and provides free breakfast for guests (to be served in the pool area during the con). Ramada is continuing to upgrade rooms with flat screen TVs, and all rooms have coffee makers, iron/ironing boards, hairdryers, and data port phones. Microwaves are available in some rooms or by request.
The Ramada is close to the airport (6 miles), has free airport shuttle service, and will extend complimentary shuttle service to various destinations within a 5 mile radius. Ramada is also willing to shuttle members to and from the other hotels, and will provide shuttle service beyond the 5 mile limit for $30 round trip per destination (not per person, so if you organize a group you can all save money). Shuttle to Bus and Amtrak $30 round trip.
Pets are allowed, with a nonrefundable pet fee of $40. There will be a designated dogwalk area. Ramada may charge a $100 non-disclosure fee if they are not informed of pets staying in a room.
Posting flyers in the hotel with low-tack tape will be allowed in designated areas and we will have a designated area for official MW*C postings. Members will be allowed to decorate their doors. As always, care must be taken not to mar any wallpaper, woodwork, etc..
Ramada does not have room service, but there are numerous restaurants, both fast food and sit-down, in the immediate area. Finley's American Grill is attached to the Ramada, Outback Steakhouse and Starbucks are now across Canal Road, and Blume is in the new Hilton Garden Inn. Across Saginaw is Horrock's (fresh produce, groceries, antipasto and olive bar, and more), Burger King, Denny's, McDonald's, Ukai Hibachi Grill and Sushi Bar, Buffalo Wild Wings, and Frank's Press Box.
Across the highway (and accessible by foot via sidewalks and crosswalks) to the west is a large shopping center that includes a Wal-Mart, Cracker Barrel, Bob Evans, Steak N Shake, Staples, Petsmart, Lowes, Michaels Art Supply, Gander Mountain, and Tractor Supply. There is also a Dunkin Donuts and BP station, McDonald's, Arby's, Biggby's Coffee, Menards, and Cancun Mexican Grill. Culvers is across the street.
There are several gas stations (including Shell, BP, and Sunoco) in the immediate vicinity, with a Speedway directly across the street.
Further to the East (in driving distance) is Carraba's, Red Robin, Krogers (groceries), Miller Animal Clinic, Walgreens, Subway, Dimitri's Restaurant, Jet's Pizza, FedEx Office, Lansing Mall (with food court), Applebee's, Fire Mountain Grill, Meijer (groceries and general goods), and Target (groceries and general goods), as well as many other fast food and sit-down restaurants, bank and credit union branches, and gas stations.
For those concerned with safety, the township police and fire departments are kitty-corner across the street.
---

There are four other hotels (Comfort Inn with 105 rooms and 6 suites, Red Roof Inn with 81 rooms, Motel 6, and Fairfield Inn West with 64 rooms and 8 suites) within walking distance* (see map), as well as 3 all-suite hotels (Quality Suites with 117 suites, Residence Inn Marriott West with 78 suites, and Springhill Suites with 104 suites) in the immediate vicinity. In addition, an 86 room Hampton Inn & Suites is now open just north of Horrock's on Canal Road, and the new Hilton Garden Inn is at the old Days Inn location across Canal Road.

*Yes, we realize "walking distance" is a relative term, so we have included the map below to show scale. The map is based on a satellite photo from Google Earth, and we have added color blocks to highlight the locations of hotels (in red), food outlets (in blue), and gas stations (in yellow).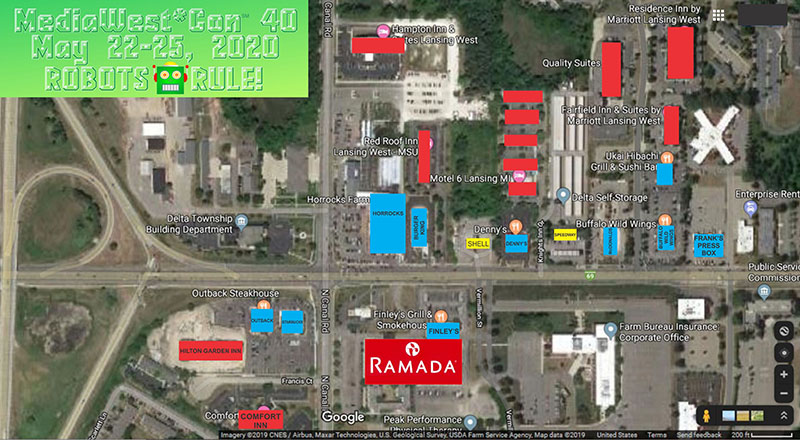 ---
This official

MediaWest*Con

page was updated December 4, 2019