Faster than a speeding bulldog... more loco than a locomotive... able to leap tall fanzines in a spiral bound!
Strange visitors from another dimension, endowed with bizarre powers of imagination, will assemble to fight for Truth, Justice, and the Fannish Way! Come by bus! Come by plane! It's...

MediaWest*Con 38 – May 25-28, 2018
MediaWest*Con

is the annual gathering of SF/Media fandom, held each Memorial Day Weekend in Lansing Michigan.



MediaWest*Con

is sponsored by T'Kuhtian Press as a celebration of the diversity of SF/Media fandom, run by fans, for fans, and is staffed entirely by volunteers. MediaWest*Con traditionally features the Art Show and Auction, Fanzine Reading Room. Fannish Videos, Masquerade, Dealers' Room, SF/Media Fan Fund, Fan Quality Awards, a Con Suite (AKA Hospitality Suite) and a Party Suite, and many, many panels on a wide variety of topics representing many areas of interest. Programming is determined by member input and participation; a form for suggesting topics will be included in a future Progress Report. Programming is intended for an adult audience; we do not censor adult themes in panel topics or in the Art Show. We have no official guests. The name

MediaWest*Con

is a service mark of

MediaWest*Con

.

Fandoms represented in

MediaWest*Con 38

programming included

A Wrinkle in Time, Agents of SHIELD, The Alienist, Altered Carbon, American Gods, The Americans, Ash vs. Evil Dead, Big Bang Theory,

Ann Bishop,

Black Lightning, Black Mirror, Castle Rock, Colony

, costuming,

Criminal Minds

, Arrowverse (

Arrow, Flash, Supergirl, Legends of Tomorrow

), DC movies (

Justice League, Wonder Woman

),

Deception, Designated Survivor, Dirk Gently's Holistic Detective Agency, Doctor Who, Elementry, The Expanse

, fanfic, Furries,

Game of Thrones, Gotham, The Good Place, The Handmaid's Tale, Instinct, iZombie, Killjoys, Krypton,

Ursula K LeGuin

, Legion, Librarians, Lost in Space, Lucifer, The Magicians, The Man in the High Castle

, George RR Martin, Marvel movies (

Avengers: Infinity War, Black Panther, Guardians of the Galaxy, Thor: Ragnorok

),

Midnight Texas,

Karen Marie Moning, Christopher Moore,

NCIS, Once Upon a Time, Orphan Black, The Orville, Outlander, Poldark, Professionals, Red Dwarf, Sentinel,

JD Robb,

Sherlock, Star Trek, Stargate, Star Wars, Starskey & Hutch, Timeless, 12 Monkeys, The Walking Dead, X-Files, Yuri on Ice

, and many more.


Welcome to MediaWest*Con 38!

Is it a bird? Is it a plane? No, it's the
MW*C 38
banner!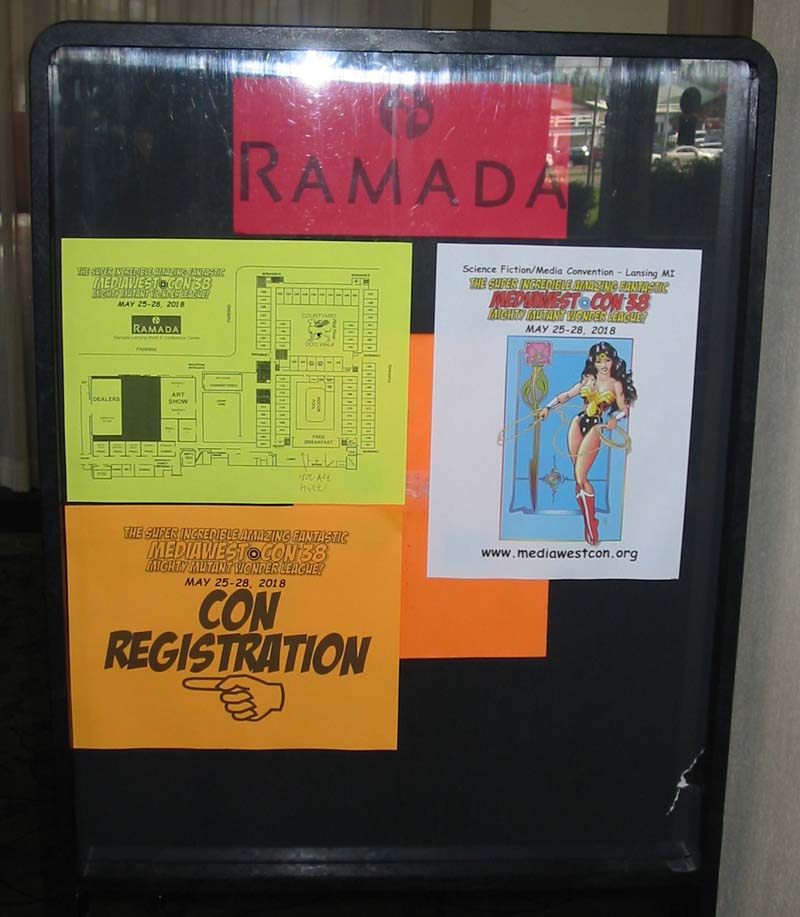 Look, signage!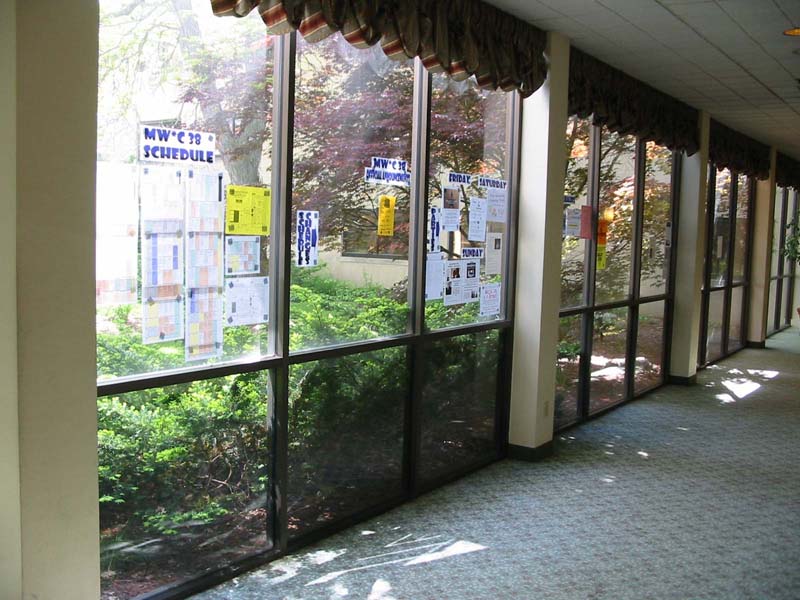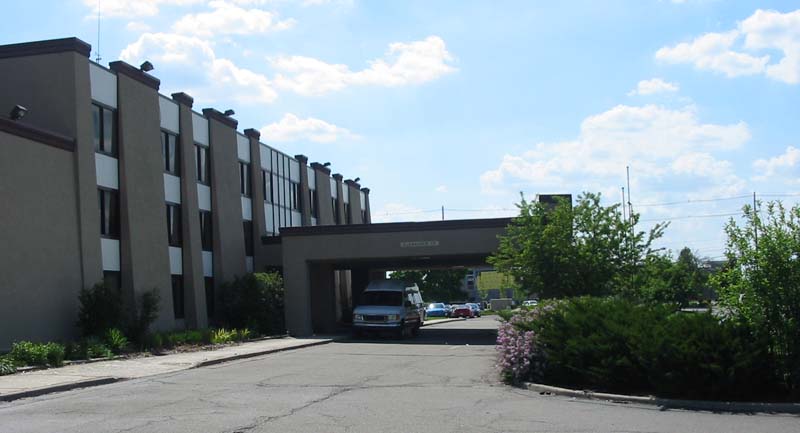 Ramada Lansing

A family of ducks live in the Ramada courtyard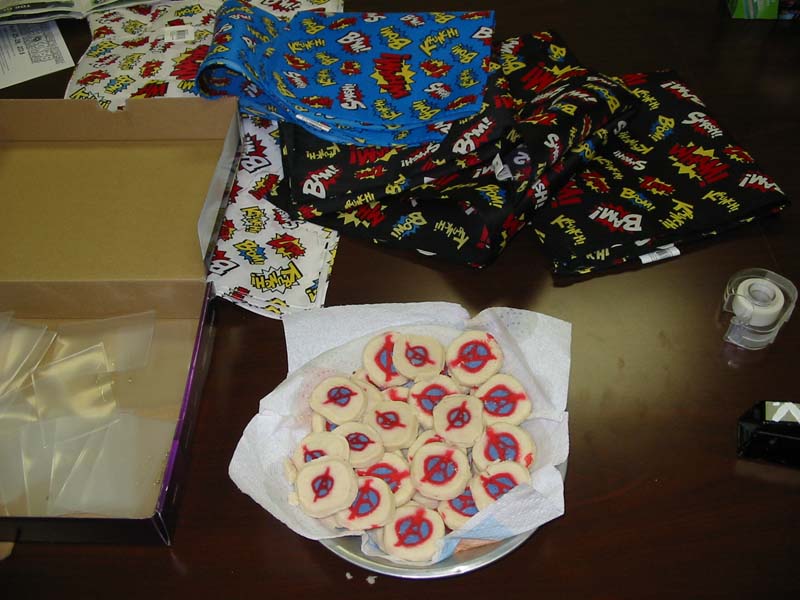 Lori made Avengers cookies for members! Swag!
MW*C 38
Members got free bam-danas!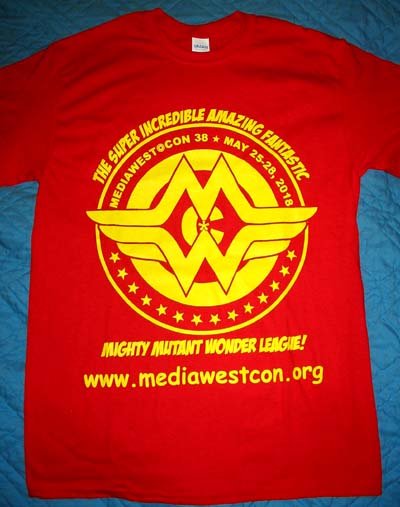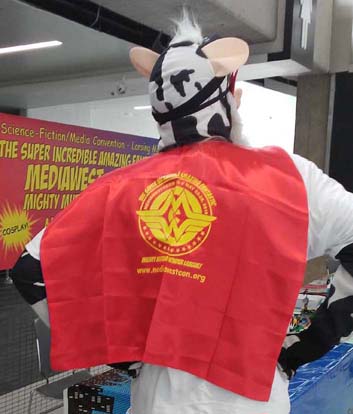 MW*C 38 T'shirts and capelets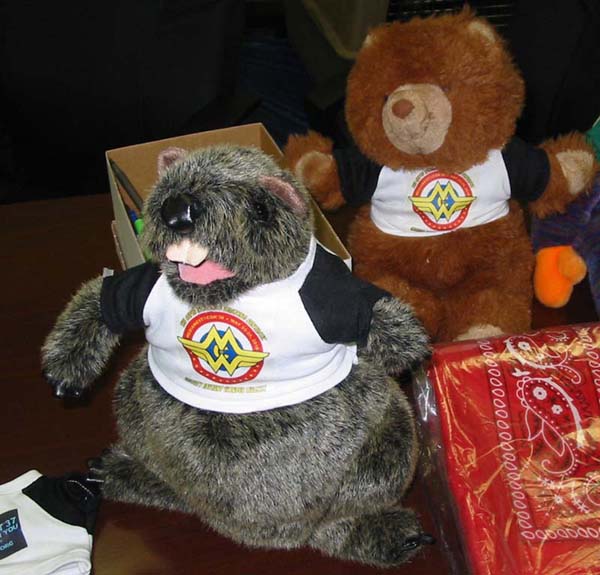 Apocryphal Tees too!
MW*C 38 Art Show Awards
By Popular Vote
Best In Show: Twins
by Kate Nuernberg
Best In Con Theme: God of Hammers?
by Kate Nuernberg
Best in SF: You Could Be More
by Kate Nuernberg
Best in Fantansy: Baba Yaga's House
by Lubov
Best in Humor/Cartoon: Dynamic Duo
by Kate Nuernberg
Best Portrait: Token White Guy
by Kate Nuernberg
Best in 3-D/Glass/Ceramaic: The Spider Spins
by Suzy Rosema
Best in Fabric/Needlework: Daleks To The Left of Me
by Seth Cutts & Jesse McClain
Best Critter: Sea Dragon
by Theresa Mathers
Best in Cop/Investigator/Spy: Nobody's As Bold As Bodie
by Kate Nuernberg
2 Cute 2 Live: Bat Dragon
by Ursula Sandmann
Personal Favorite: Twins
by Kate Nuernberg
Masquerade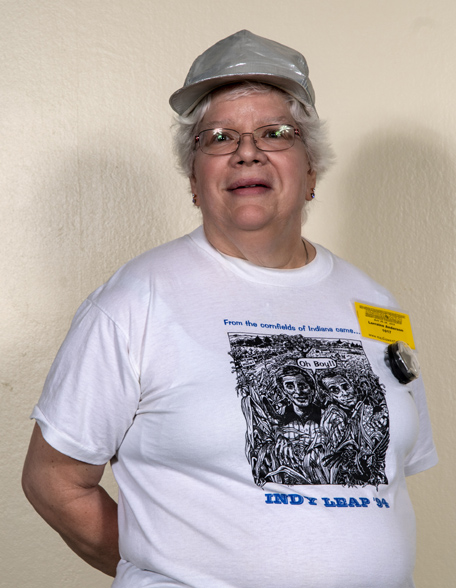 Best In Show
Ode From an Old Quantum Leap Fan
Lorraine Anderson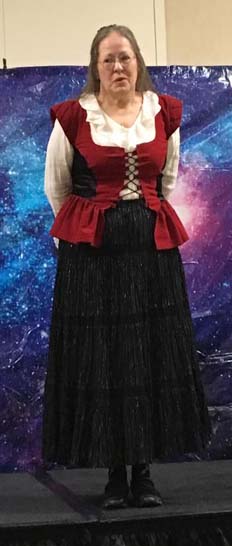 Best Crowd Direction
The Storyteller
Brenda (Middlebrook) Gasahl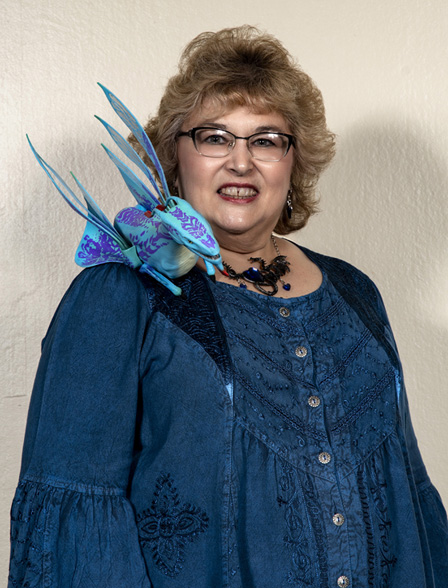 Best Duet
You Gotta Have a Dragon or You Oughta Have a Dragon
Linnese Dawe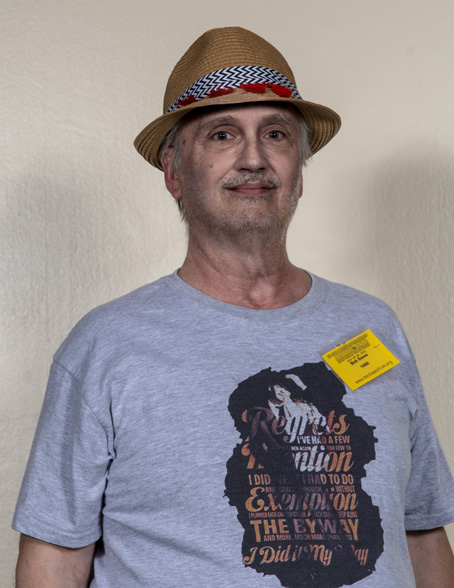 Best Comedic Song
Chairman of the Unboarded
Bob Dawe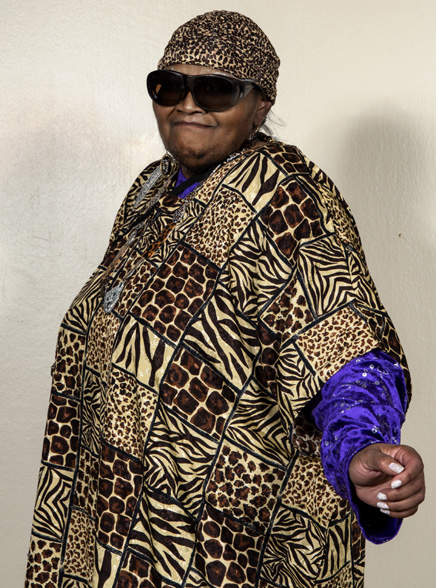 Best Superhero
Storm (Pre-Brood)
Cheri "Elaine" Tripp
Judges: Kelly Dwyer, Nikki Wegrzyn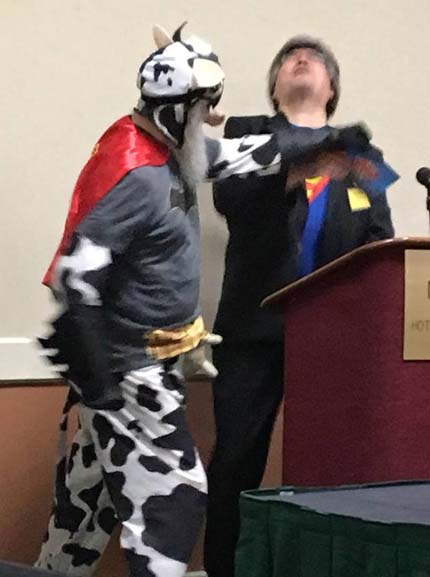 Batcow v. SuperAndre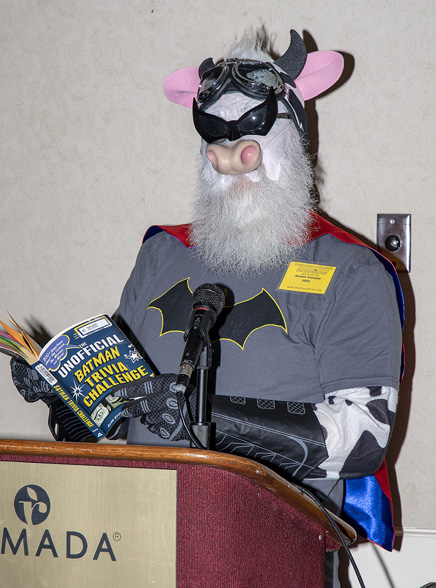 Batcow provided Bat-trivia during judges' deliberations.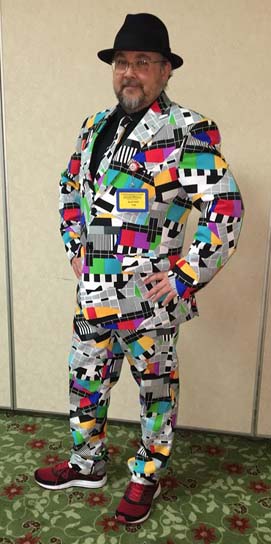 Scott Clark wore a fabulous suit, but did not enter.
MW*C 38 DOOR DECORATION AWARDS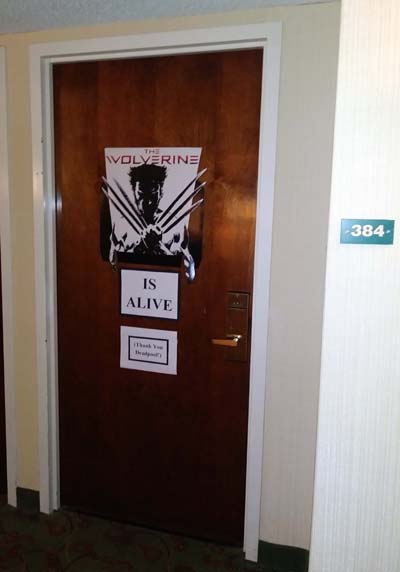 BEST SPOILER
Wolverine
384 – Barbara Gompf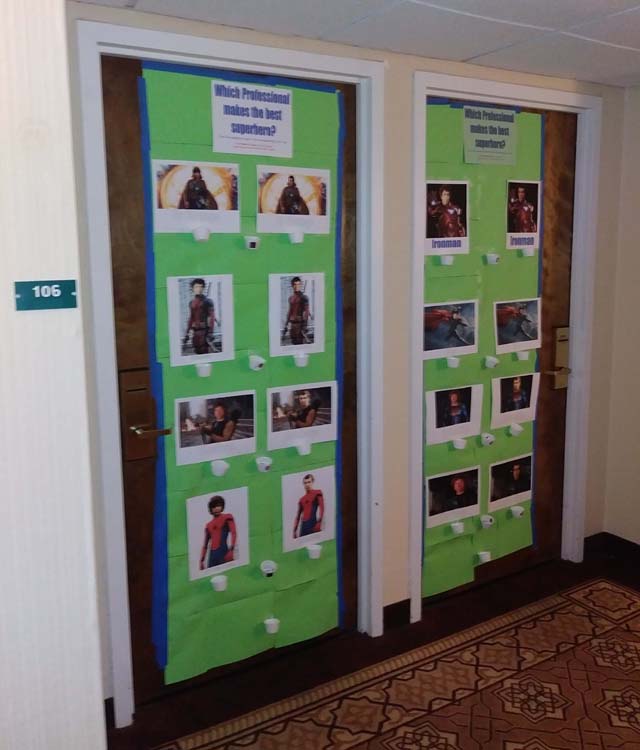 BEST INTERACTIVE
Professionals as Superheroes
104/106/108 – Krisser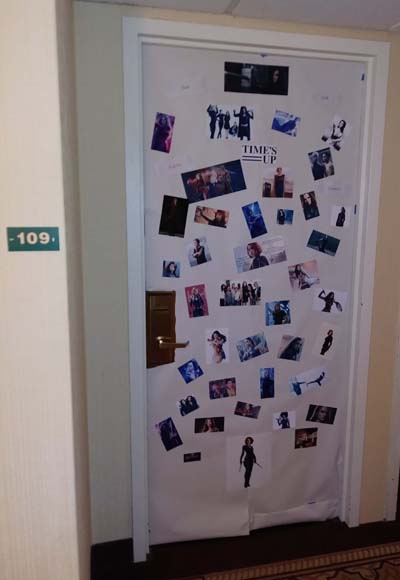 BEST CAPTURED THE ZEITGIEST
Women Superheroes
109 – Emma Abraham, Karen Brandl, Sues Wargo, Deb Johnson
BEST PRESENTATION
Good Omens
159 – Linda K. James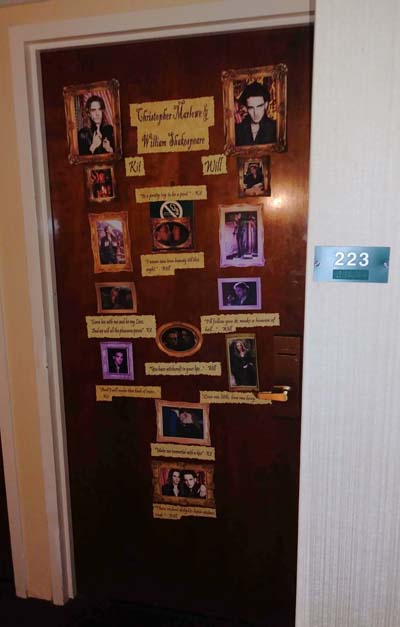 MOST ERUDITE
Will Exit
223 – Nancy Kolar, Michael Mullen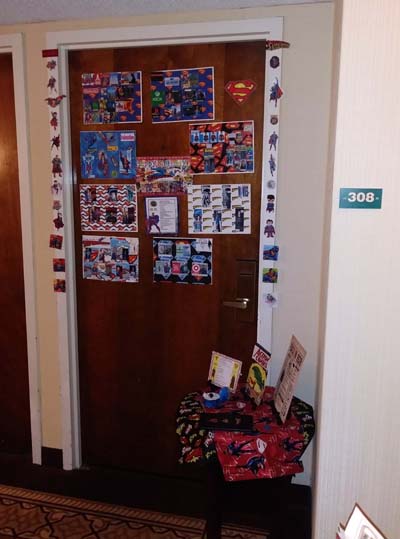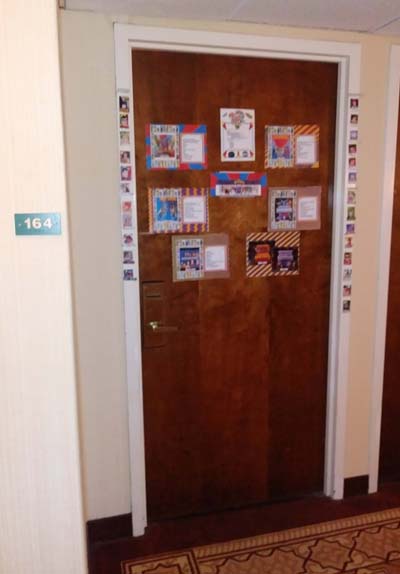 BEST DC
Happy Birthday Superman/Superfriends
308/164 – Cheri "Elaine" Tripp
DOORS WE LIKED BUT THEY DIDN'T ENTER
275, 226, 219, 239, 335, 253
The Capture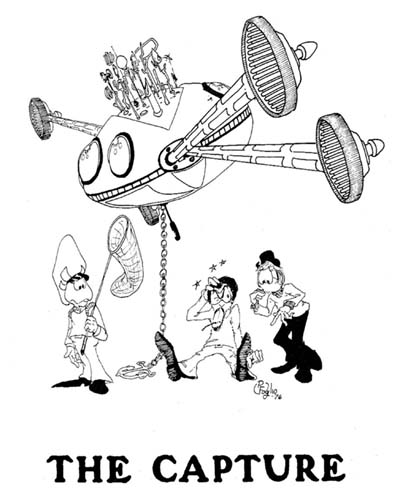 The Capture
by Bob Asprin and illustrated by Phil Foglio (1976 Hugo nominee!) was performed in the Fannish Video Room Saturday night.
Presented by Paula Smith and voiced by Bill Dyer, Sharon Ferraro, Carol Lynn, and Gordon Carleton.
Fannish Video Awards
There were not enough entries, so no awards given.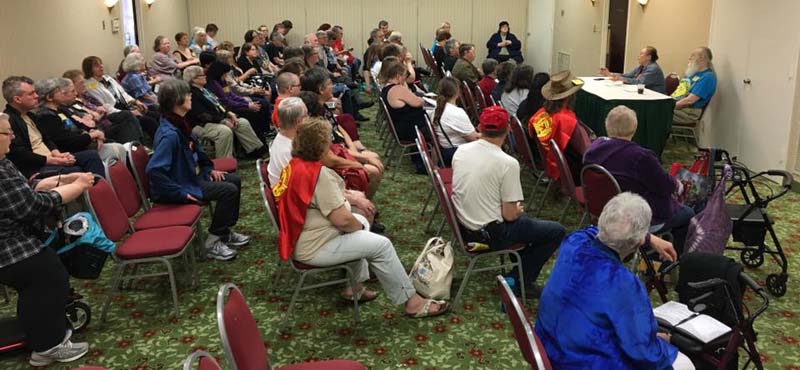 A Not-Dead-Yet-Dog panel was held at the con Sunday morning in Delta Central. As the crowd was larger than anticipated, the room was opened up to include Delta West.

Many voiced their thoughts, and some even volunteered to help with areas we've needed help with! Topics covered a wide range, from welcoming newcomers to signage. The panel was productive enough that it was extended well into the next hour (Apologies to the panelists who were bumped).


The regular Dead Dog panel was also held as usual Monday morning.
Thanks to everyone for the use of their photographs!
Thanks to
Mini-Komix
for their donation of publications for prizes!
This official
MediaWest*Con
page was updated July 22, 2018