MediaWest*Con 26 -- May 26-29, 2006
MediaWest*Kong, er, Con has been called the 500 pound gorilla of SF/Media cons, so this year MediaWest*Con 26 (May 26-29, 2006) went ape and celebrated lost worlds and the fantastic creatures that inhabit them.
MediaWest*Con is the definitive gathering of SF/Media fandom, held each Memorial Day Weekend in Lansing Michigan. MediaWest*Con is sponsored by T'Kuhtian Press as a celebration of the diversity of SF/Media fandom, run by fans, for fans, and is staffed entirely by volunteers. MediaWest*Con traditionally features the usual monkey business: Art Show and Auction, Fanzine Reading Room. Fannish Videos, Masquerade, Dealers' Room, SF/Media Fan Fund, Fan Quality Awards, a Con Suite (AKA Hospitality Suite) and a Party Suite, and many, many panels on a wide variety of topics representing many areas of interest. Programming is determined by member input and participation; a form for suggesting topics will be included in a future Progress Report. Programming is intended for an adult audience; we do not censor adult themes in panel topics or in the Art Show. We have no official guests. The name MediaWest*Con is a service mark of MediaWest*Con.
PROGRAMMING | FAN Q | FAN FUND | FANNISH VIDEO | ART SHOW | MASQUERADE | DOOR DECORATION
---
Programming
Once again, MediaWest*Con 26 was held in Lansing, Michigan on Memorial Day Weekend, May 26-29, 2006. As always, programming was determined by member input and participation.
Fandoms represented in programming at MW*C 26 included 24, Alias Smith & Jones, Angel, Anime, Battlestar Galactica, Bones, Boston Legal, Brokeback Mountain, Buffy the Vampire Slayer, Charmed, Chronicles of Narnia, Cold Case, CSI/Miami/NY, Doc Savage, Doctor Who, ER, Fantastic 4, Firefly/Serenity, Neil Gaiman, Ghost Whisperer, Harry Potter, Horatrio Hornblower, House, John Doe, Kim Possible, Lord Of The Rings, Lost, Anne & Todd MacCaffrey/Pern, Magnificent 7, Man from UNCLE, Medium, Monk, NASA, NCIS, Andre Norton, Numb3rs, Phantom of the Opera, Pirates of the Caribbean, Real Ghostbusters, Runescape, Sentinel, Smallville, Star Trek, Stargate SG-1/Atlantis, Star Wars, Starsky & Hutch, Supernatural, Underworld, Veronica Mars, West Wing, Wild Wild West, Without a Trace, World of Warcraft, Xena: Warrior Princess, X-Men, and more.
---
Fan Q
Click here for info on the Fan Quality Awards, including 2006 Fan Q Award winners.
---
SF/Media Fan Fund
Thanks to everyone who donated items for the Fan Fund auction!
Due to a lack of nominations, there was no 2006 SF/Media Fan Fund recipient.
Click here for more Fan Fund info. Support the Fan Fund!
---
Fannish Video
Click here for Fannish Video Competition info, including 2006 Fannish Video Competition Awards.
---
Art Show Awards
By Popular Vote
Best In Show: Once Upon A Time, In Your Wildest Dreams by Suzan Lovett
Best SF: Purple Passion by John Kauffman
Best Fantasy: Peacock Carousel by Heather Bruton
Best 3-D: Fractured by Leah Rosenthal & Ann Wortham
Best Critter: The New Seeker by Jesse McClain
Best Needlework: Celtic Beaded Bag by Vicki Burke
Best Glass: Fawkes Flies Again by CascadePD
Best Cartoon: Dial 1-800-HOBBIT by Leah Rosenthal
Best Portrait: The Doctor's In! by Jesse McClain
Best Jewelry: A Pirate's Life by Pat Leslie
Best Investigator: Goth Tech by Jesse McClain
Best Horror: Dark Embrace by Barbara Fister-Liltz
2 Cute 2 Live: Dream Girl by Karen River
---
Masquerade Awards
Best In Show:

Recurring Nightmare -- Julie Garner & Ashley Harp

Best Young Fan:

Cameran Vampire -- Cameran Hayden

Best Workmanship:

Going to the Opera: Coruscant -- Bernadette M. Crumb

Award for No Animals Harmed in the Making of this Production

and

Audience Choice Award:

The Girls of Serenity vs. The Alliance -- Samantha Powell, Nola Thompson, Kelly Lowrey, Victoria Gold, Maxwell Powell, Salem Powell, Alex & Brian Kaempler

Official Con Mascot Award:

Barbie's Dream Date -- Peter Cooper

Best Still Looking Good After All These Years:

Lepercorn -- Brenda Gasahl
Best Use of Outsourcing: It's So Hard To Find Good Help These Days -- Audrey Lynne & Stephanie White
Best Nostalgic: Mrs. Bunny -- M'Jit
Best Use of a Stargate in a Sports Event: Hogwarts ROTC -- Kelly, Karl, & Paula
Best Moves by a Wizard Without Using Magic: Schmendrick and Molly Get It On -- Ron Maxwell & Erika Hayden
Most Unorthodox Use of the Force: The Ultimate Negotiator -- Lady Ana
Least Likely to be Suspected of Being Armed: Langley of the Lone Gunman -- Heather Zastawnik
Best Use of Servent: Queen of Air and Darkness and Manservant -- Alyssa & Jaren Bane
Audience Choice Raffle: Ann Beetem
---
MW*C 26 Door Decoration Awards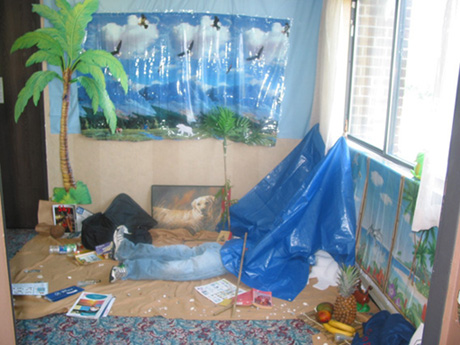 Best In Show: Hurley's Revenge (Lost) -- Room 401
Sue Glasgow, Carol Kohn, Sophia Mulvey, Karen Travers, Carol Yavelak

Best Single Fandom: Welcome to Skull Island (King Kong) -- Room 545
Siouxsie Sherman

Best Multi Fandom: Sweet Meat Candies (Multi) -- Room 478
Janet Zitzka, Gayle Markus

Best Humor: M & M Personalities (Star Wars, M&Ms, Chocolate) -- Room 505
MJ Frank, Sharon Wisdom, Janice Bilby

Best Crossover: Barscape: Hot Men. Cold Beer. (Multi) -- Room 367
Dani Lane, Marta Christjansen, Susan Hall

Best Multi Character: "Con" Star-lation (Multi) -- Room 301
Linnese Dawe, Nathan Dawe, Rob Dawe, John Dougherty

Best Romance: Gone Fishing (Stargate SG-1) -- Room 472
Sue Corkill, Lisa Woolley, Denise Petet

Honorable Mentions:

What's Your Sign? (Multi) -- Room 315
Rebecca Wilson

Da Vinci Toad (Multi) -- Room 408
Tom Howard, Paula Seals, Candy Pulleine, Jill Jacobs

Brokeback Ranch (Brokeback Mountain) -- Room 479
Susan Moore, Bertha Trusdell

---
This official MediaWest*Con page was updated June 5, 2010
---