MediaWest*Con 25 -- May 27-30, 2005
MediaWest*Con is the definitive gathering of SF/Media fandom, held each Memorial Day Weekend in Lansing Michigan. MediaWest*Con is sponsored by T'Kuhtian Press as a celebration of the diversity of SF/Media fandom, run by fans, for fans, and is staffed entirely by volunteers. MediaWest*Con traditionally features the Art Show and Auction, Fanzine Reading Room. Fannish Videos, Masquerade, Dealers' Room, SF/Media Fan Fund, Fan Quality Awards, a Con Suite (AKA Hospitality Suite) and a Party Suite, and many, many panels on a wide variety of topics representing many areas of interest. Programming is determined by member input and participation; a form for suggesting topics will be included in a future Progress Report. Programming is intended for an adult audience; we do not censor adult themes in panel topics or in the Art Show. We have no official guests. The name MediaWest*Con is a service mark of MediaWest*Con.
PROGRAMMING | FAN Q | FAN FUND | FANNISH VIDEO | ART SHOW
MASQUERADE | DOOR DECORATING | MW*C 25 UPDATES
---
Programming
Once again, MediaWest*Con 25 was held in Lansing, Michigan on Memorial Day Weekend, May 27-30, 2005. As always, programming was determined by member input and participation.
Fandoms represented in programming included 24, Angel, Anime/Manga, Battlestar Galactica, Blake's 7, Buffy The Vampire Slayer, comics, CSI, Deadwood, Discworld, Doctor Who, Due South, Fantastic 4, Harry Potter, Highlander, Horatio Hornblower, Sherrilyn Kenyon, Jacqueline Lichtenberg, Lord of the Rings, Jean Lorrah, Lost, Magnificent 7, Anne McCaffrey, Mystery, NASA, Andre Norton, Phantom of the Opera, Pirates of the Caribbean. Real Ghostbusters, JD Robb, Sentinel, Smallville, Kevin Smith, Star Trek, Stargate SG-1/Atlantis, Starsky & Hutch, Star Wars, Tru Calling, UNCLE, Vampires, Whose Line Is It Anyway?, Wild, Wild West, Xena: Warrior Princess, X-Men, and more.
---
Fan Q
Click here for info on the Fan Quality Awards.
---
SF/Media Fan Fund
Click here for more Fan Fund info. Support the Fan Fund!
---
Fannish Video
Click here for Fannish Video Competition winners.
---
Art Show Awards
By Popular Vote
Best In Show: Three Faces of Richard Dean Anderson by Jesse McClain
Science Fiction: The Coming Dark by Jesse McClain
Fantasy: Chickadees by Heather Bruton
Detective: Can I Still Serve & Protect by Jessse McClain
Secret Agent: Say UNCLE by Kate Nuernberg & Sally Budd
Animation: Kill Bill by Mike Cole
Humor: Elf Defense by Leah Rosenthal
3-D: Dragon Hatchling by Kelly Dwyer
Fabric: Spawn of Eye Candy* by Seth Cutts & Gail Felipe
Western: Seven by Annie West
Horror: It's Always the Blood by Laura Quiles
Portrait: All Turns to Silver Glass by Kate Nuernberg & Sally Budd
Critter Dragon Hatchling by Kelly Dwyer
Too Cute to Live: If The Shoe Fits... by Jesse McClain
Honorable Mention: To Hell With This "Too Cute To Live" Crap by Kate Nuernberg
Judge's Choice:
Spirit Guide: Fox by Karen River
Sapphire by Heather Bruton
Sith Lord by Mike Cole
*Fandoms represented in the Spawn of Eye Candy quilt: Jurassic Park, Magnum PI, Galaxy Quest, Hitchhiker's Guide to the Galaxy, Numbers, Quantum Leap, Zorro, Lost, Miami Vice
---
Masquerade Awards
Best In Show & Best Young Fan
Trust a G'ou'ld? Nola Thompson, Samantha Powell, Kelly Lowrey, Victoria Gold
Best Humor
Maybe Newer Isn't Better -- Laura Wootan, David Wootan
Best Workmanship
The Want Ad -- Paula Kesler
Best Characterization
The New Apprentice -- June Edwards, Angela Varesano
Best Original & Audience Choice
A Writer's Nightmare -- Julie Garner, Ashley Harp
Weirdest Presentation
It's A Spider, Darth -- Peter Cooper
Best Multi-Part
French Highwayman -- Kelly Dwyer, Karl Etheridge, Paula Neier, Wolf
Best Cross-Genre Fusion
A Marriage Made In Hell -- Mark Cogan, Leslie Dannenberger, Joe Dorffner, Sophia Kelly Schultz
---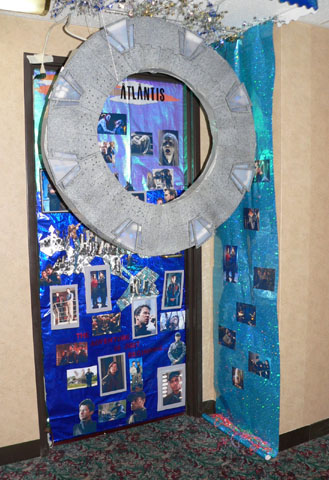 Best In Show: Rm 510 Stargate Atlantis
By: Linda K. James, Richard Sacks Wilner

Best Multi-Fandom: Rm 348 Hero Sandwich
By: Rachelle Stein, Joyce Hindman

Best Graphic Design: Rm 326 Newsstand (Multi)
By: Ana Man, Cathy Lussier

Best Ongoing Narrative: Rm 508 Without A Trace (Multi)
By Sue Glasgow, Sophia Mulvey, Karen Travers, Carol Kohn, Carol Yavelak

Best Crossover: RM 309 The Quest for the One (Blue) Spoon (SW, LotR, Cereal)
By: Elsbeth, Walks with Cellphone, Marigold

Best Slash: Rm 482 When They were Sergeants (S & H)
By: Blue Starsky

Best Display of Photos: Rm 357 Annie & Londa Door: Annie's Latest Obsession (Gerard Butler & Multi)
By: Ann Walton, Londa Pfeffer, Cinda Gillilan

Best Popular Culture: Rm 556 That 70's Door (70's era TV/Movies, Life)
By Susan Bartholomew, Sarah Bartholomew, Sam Bullock

Best Humor: Rm 380 The Real Hogwarts: Harry Porker & the Chamber of Varmints
By: Caroline Quinn, Sue Wells, Laura Waight, Mark Swing

Best Multi-Character: Rm 321 Rest in Peace…Or Not (Multi)
By: Sandy Hall, Carrie Rocke, Amanda Hall, Crystal Hall

Best Single Fandom: Rm 431 Light of the Force (SW)
By: June M. Edwards

Best Single Character: Rm 532 Snark on a Stick (House)
By Gena Fisher

---
This official MediaWest*Con page was updated June 5, 2010
---