MediaWest*Con 2001: A Fan Odyssey
May 25-28, 2001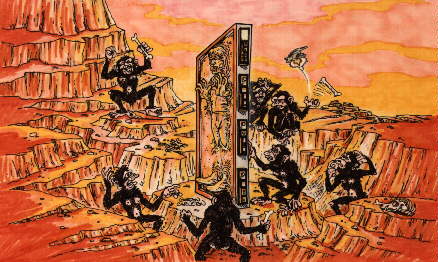 The name MediaWest*Con is a service mark of MediaWest*Con.
FANDOMS | MASQUERADE | FAN Q | FAN FUND | FANNISH VIDEO

Once again, MediaWest*Con 21 was held in Lansing, Michigan on Memorial Day Weekend, May 25-28, 2001. As always, programming was determined by member input and participation.
Fandoms represented in panels at MW*C 2001 included Alien Nation, Andromeda, Angel, Babylon 5, Beauty & the Beast, Anita Blake, Bordertown, Buffy the Vampire Slayer, Lois McMaster Bujolds, CSI, Charmed, Crocodile Hunter, Dark Angel, Doc Savage, Due South, ER, Earth: Final Conflict, Emergency, Farscape, Freedom, Harry Potter, Highlander, Horatio Hornblower, I Spy, Invisible Man, Iron Chef, Junkyard Wars, Kung Fu: The Legend Continues, La Femme Nikita, Law & Order, Lexx, Lone Gunmen, Lord of the Rings, Magnificent 7, Man from UNCLE, Max Headroom, Anne McCaffrey, Andre Norton, Pretender, Professionals, Quantum Leap, Queer as Folk, Rat Patrol, Real Ghostbusters, Remember WENN, Roswell, Sentinel, Seven Days, Shadowchasers, Shakespeare, Sherlock Holmes, Silk Stalkings, Sopranos, Star Trek, Star Wars, Stargate SG-1, Starman, Starsky & Hutch, Doctor Who, Total Recall 2070, Voyage of the Unicorn, West Wing, Wiseguy, Xena, X-Files, and more.

We would appreciate any photos of Masquerade winners.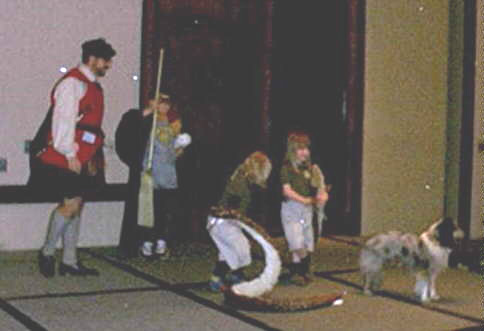 Young Fan
Best Young Anime: Sakura Avalon -- Kelly Lowrey

Best Up & ComingYoung Wizard: Hary Potter -- Kenny Keisel

Doggin' It In The Everglades Award: Crocodile Hunter Sam, her right hand & best mate Kelly & featuring the lovely Swedish Anna Conda & the dangerous & ferocious Max the Crocodile -- Samantha Powell, Kelly Lowry, Maxwell Powell
Adult Fan
Most Historically Accurate & Best Regimental Award: Member of the Royal Highland Regiment (approx. 1750-1770's) -- Scott Hutchinson.




Popular Vote
Science Fiction: Elemental Energy by Jesse McClain
Fantasy: The Silent Place by Heather Bruton
Detective: Partners by Jesse McClain
Secret Agent: Open Channel D by Kate Nuernberg & Sally Budd
Animation: Nudge Nudge Wink Wink by Mike Cole
Humor: A Clone Again, Naturally by Leah Rosenthal
3-D: Magic Box by Anne Fredericks
Fabric: Gargoyle by Kelly Dwyer
Western: McQueen by Lucy Seaman
Horror: William the Bloody... Awful Poet by Kate Nuernberg & Sally Budd
Portrait: Roman Spectacle by Frank V. Liltz
Critter: Crouching Tabby, Hidden Agenda by Karen River
Best in Show: The Silent Place by Heather Bruton

Too Cute to Live: Crouching Tabby, Hidden Agenda by Karen River