...in a galaxy far, far away, there was an age undreamed of, a time of myth & legend, a time of ancient gods, warlords, & kings, from the dawn of time -- well, you wizards, satyrs, centaurs, demi-gods, barbarians, warrior princesses, mortals, and immortals get the idea. 20 years after we first held T'Con in 1978, MediaWest*Con 18 salutes all our yesterdays, real or imagined.
MediaWest*Con is the definitive gathering of SF/Media fandom, held each Memorial Day Weekend in Lansing, Michigan. MediaWest*Con is sponsored by T'Kuhtian Press as a celebration of the diversity of SF/Media fandom, run by fans, for fans, and is staffed entirely by volunteers. MediaWest*Con traditionally features the Art Show and Auction, Fanzine Reading Room, Fannish Videos, Masquerade, Dealers' Room, Fan Fund, Fan Quality Awards, a Con Suite and a Party Suite, and many, many panels on a wide variety of topics representing many areas of interest; programming is determined by member input and participation. We have no official guests. The name MediaWest*Con is a service mark of MediaWest*Con.
MediaWest*Con 18 was held in Lansing, Michigan, May 22-25, 1998 (Friday -- Monday, Memorial Day Weekend). The post-con Progress Report has been mailed to members of MW*C 18. We will continue to update the various award lists, etc., as that info comes in.
MW*C 18 had panels scheduled on A-Team, Airwolf, Alien Nation, Ally McBeal, Babylon 5, Beauty & The Beast, Blake's 7, Brooklyn South, Brother Cadfael, Buffy the Vampire Slayer, Chicago Hope, Creature, Deep Impact, Doctor Who, Due South, Early Edition, Earth: Final Conflict, Emergency!, ER, Forever Knight, Ghost & Mrs. Muir, Godzilla, Hawaii 5-0, Hercules, High Incident, Highlander, Hogan's Heroes, Homicide: Life on the Street, JAG, King of the Hill, Kung Fu: The Legend Continues, La Femme Nikita, Lost In Space, M*A*S*H, Men In Black, Merlin, Millenium, Modesty Blaise, NYPD Blue, Outer Limits, Pinky & The Brain, Poltergeist: The Legacy, Pretender, Profiler, Quantum Leap, Rat Patrol, seaQuest, Sentinel, Shadow Chasers, Shakespeare, She-wolf of London, Sherlock Holmes, Silence of the Lambs, Simpsons, Sliders, Star Trek (TOS, TNG, DS9, Voyager), Star Wars, Stargate SG-1, Starsky & Hutch, Titanic, Twilight Zone, U.N.C.L.E.,V, Wiseguy, X-Files, Xena, and more.
1998 Fan Q Awards
1998 Fan Qs were awarded at MW*C 18. Click here for more Fan Q info, including the winners list.
Art Show Awards
POPULAR VOTE
Science Fiction: The Year We Took Back What Was Ours by Wappel
Fantasy: Owl Stretching Time by Liltz
Detective: Me and Thee by Liltz
Secret Agent: 007 Will Steele Your Heart by McClain
Animation: Mice In Black by Cole
Humor: Beatings, Brother by Rosenthal
3-D: Spirit Drum by McClain
Fabric: Highlander Tapestry by Sherlock
Western: Sunset Seven by Seaman
Horror: Aristocracy by Liltz
Portrait: The Eternal Star by McClain
Critter: Bon Appetit by Sandman
Best In Show: The Eternal Star by McClain
Too Cute to Live: Two Cute by Fister-Liltz
JUDGES' CHOICE
Dragon Fountain by Honeck
Highlander Tapestry by Sherlock
Masquerade
Young Fans Categories

Too Cute To Live:
Little Gabby and her Big Stick
-- Kelly Jeanette Aurora Lowrey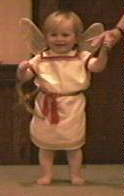 Best Wings:
Baby Bliss, Child of Cupid
-- Samantha Powell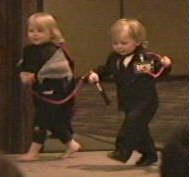 Youngest Fans:
Baby in Black with Alien
-- Samantha Powell, Kelly Jeanette Aurora Lowrey
Adult Categories

Best in Show, Best Overall Workmanship (Beading):
The Black Flame
-- Christine Bonder

Best Cheap, Workmanship (for Storm Trooper Armor and Delenn Robes):
Scum of the Universe
-- Bev Grant, Martyn, Bill Dyer, Jan Gosnell, Joel Burdick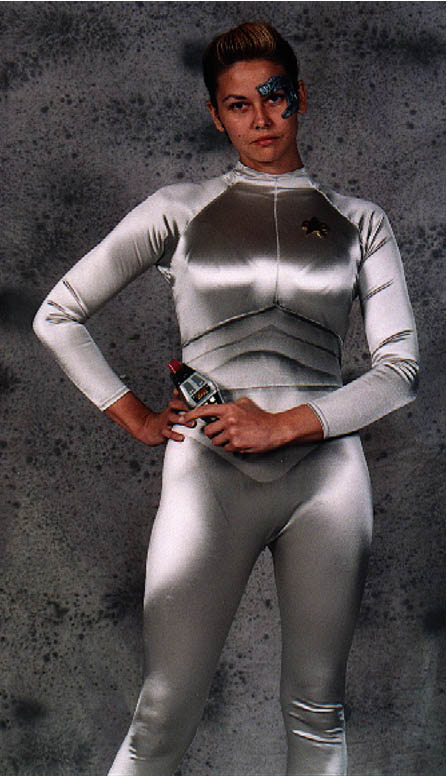 Best Recreation:
7 of 9
-- Betty Ann

Best Presentation:
Double Your Slayer
-- Lizbet Lewis, Dawn Steele, Perri Smith, Abby Albrecht, Valerie Meachum, & Tina Cooling

Most Humorous:
Sir Poptopalot
-- Christina Getrost
Fannish Videos
Click here for
Fannish Video
info and Fannish Video Competition winners.
Plays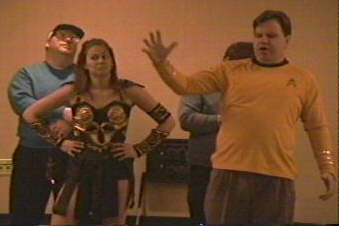 Thanks to everyone who participated in the plays "A Warrior Princess, A Magic Lanp, and a Certain Starship Captain" by Rob Butler and performed by the Monday Night Group That Meets on Sunday Afternoon and "Due South Park" and "Pillow Talk" by Michael Emond.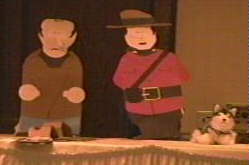 Blood Drive
There were 63 blood donors, 58 pints collected, and 2 first time donors. Thanks to everyone who helped reach this goal.
This official MediaWest*Con page was updated July 29, 2012